Looking to Advertise With Us?
Who we are...
The Daily Record has been the Central Arkansas source for real estate, legal and business information since 1925. During that time we have served a vital role as the authority for daily news and information on business and commerce - certain information that can't be found in any other publication in Arkansas. Recognized for decades as the number one source for public notice and business data, the Daily Record offers the most comprehensive information on the courts, real estate, and local business activity, all gathered each day from public records. This data includes lawsuits, court actions, business licenses, tax liens, corporate charters, building permits, deeds, foreclosures, bankruptcies and more. What does this mean for you and your business? Leads. Information equals leads, and leads are what you need to generate new business. We are more than a public notice newspaper. Each week our consistent award-winning journalists and photographers produce in-depth profiles of Central Arkansas' professional peers and their endeavors. These articles in turn provide a comprehensive view of local business news and trends.
Who you will reach
The Daily Record prints 9,000 copies weekly. With a paid subscriber base of over 8,000 copies, the papers are mailed to a highly educated and affluent cross section of Central Arkansas' leaders. The Daily Record is mailed to homes, businesses, and is available on newsstands across Central Arkansas.

Our readership includes, among others, members of the Pulaski County Bar Association, the Little Rock Realtors Association, the Benton/Bryant Realtors Association, the Faulkner County Board of Realtors, the North Pulaski Board of Realtors, members of the University of Arkansas at Little Rock Alumni Association and the alumni of the UALR William H. Bowen School of Law."
---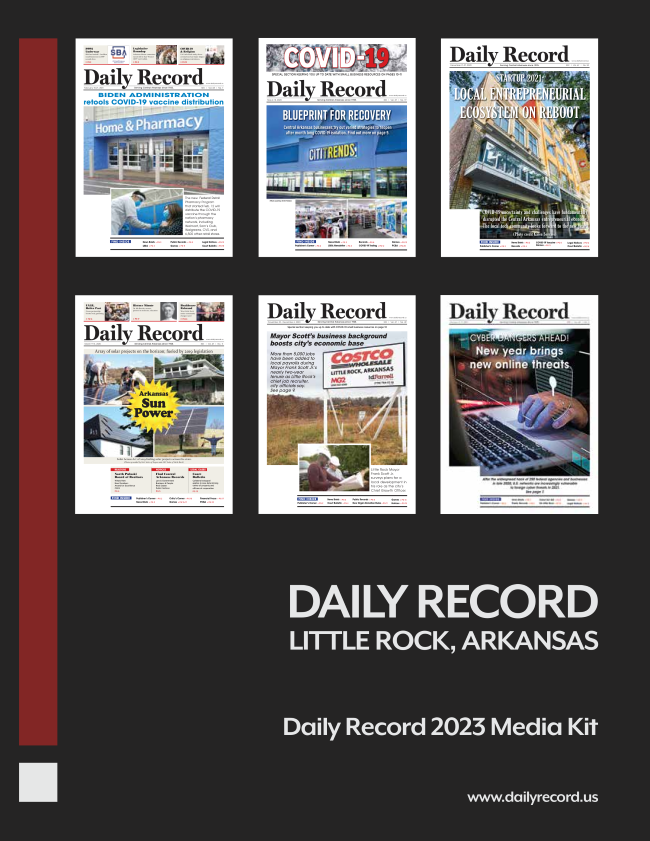 Please click on the image above to download our media kit